TBD: Virtual Training! 6pm – 8pm (MST)
TBD: Virtual Training! 6pm – 8pm (MST)
May 22-23: WFA
May 22-26: WFR
May 24-26: WFR Re-cert
TBD: CPR Training (included in WFA/WFR courses)
May 30 – June 3: All Staff Training
1. STATE-BASED BACKGROUND CHECKS
PLEASE COMPLETE IF CLEARANCE WAS NOT RECEIVED LAST YEAR!!! YOU DO NOT NEED TO DO THIS IF WE RECEIVED YOUR CLEARANCE LAST YEAR.
**You may skip this step if you have ONLY lived in the state of Colorado for the past five years. This MUST be completed if you did not officially received an approval letter from the state of Colorado last summer.

ALL Telluride Academy staff are required to obtain the following three background checks from all states they've lived in in the past 5 years:
State Criminal History Check
State Sex Offender Registry
State Child Abuse and Neglect Registry
You can use the following link to find instructions for completing each of these forms.
You must have ALL of these forms sent into their respective organizations by Friday, March 3rd. Once you obtain results of these background checks, immediately send the results to sophie@tellurideacademy.org.
2. COMPLETE REQUIRED ONLINE TRAINING
All child care workers in the state of Colorado are required to complete a number of online trainings every year. Please go into the "Training" tab in your Bamboo account and complete the following three trainings: Standard Precautions, Injury Prevention and Recognition and Reporting of Child Abuse and Neglect. 
There will then be a place in your Bamboo account to upload the completion certifications. See step #5 for instructions.
It may ask for the following information:
Employer Type: School Age Program
Country: San Miguel
School Age Program: San Miguel School Age (Before & After) & Camp Program
Professional Role Category: School Age Professional
Professional Role: School Age Professional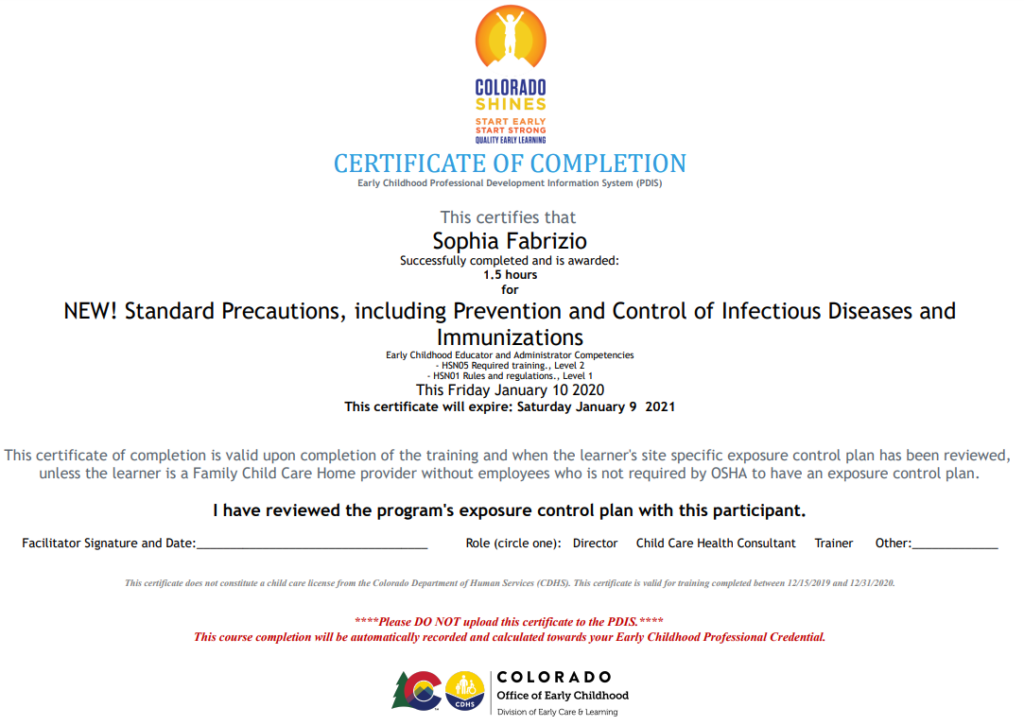 All staff MUST Read the 2023 Staff Handbook carefully! This document outlines all Academy policies, procedures as well as the expectations of all Field Instructors. The Handbook is also a great place to familiarize yourself with how we structure and staff Academy programs. The staff handbook must be carried with you in the field at all times and gives you access to emergency contact numbers, lightning procedures, evacuations and more!
Both documents MUST be read and reviewed prior to entering the field with students.
We recommend that you either print off a version of this handbook or download them to your smart phone. You MUST carry one of these documents with you at all times this summer!
There are also numerous addendum found on the 'Staff Resources' page that outline useful options that are available to you throughout the summer.
4. CAMPER CODE OF CONDUCT
All staff MUST read the TA Camper Code of Conduct. This document outlines the expectation Telluride Academy holds for it's students. Instructors should be familiar with these expectations and communicate with admin staff if any child is not adhering to it.
We recommend printing this document and keeping it with you during camp. This can be a useful reference when students are not behaving.
This document can serve as a guideline when creating "Camp Contracts" with student groups on Monday mornings.
5. COMPLETE REQUIRED FORMS
Log into Bamboo to access all the paperwork and trainings that need to be completed. 
Once you've logged in, click the inbox icon in the top right corner of the screen. There will be a number displayed that tells you how many "tasks" need to be completed. The "tasks" include on-boarding paperwork and forms as well as training certifications and documents that need to be uploaded. Please follow the instructions for each "task" to complete this portion of your return instructor paperwork!