WELCOME NEW ACADEMY STAFF
TBD: Virtual Training! 6pm – 8pm (MST)
TBD: Virtual Training! 6pm – 8pm (MST)
May 22-23: WFA
May 22-26: WFR Re-cert
May 23-27: WFR
TBD: CPR Training (included in WFA/WFR courses)
May 30 – June 3: All Staff Training2-23
1. STATE-BASED BACKGROUND CHECKS
DUE 2 WEEKS FROM HIRE DATE
*You may skip this step if you have ONLY lived in the state of Colorado for the past five years. Yes, this is a lot of work but yes, it is definitely required.
ALL Telluride Academy staff are required to obtain the following three background checks from all states they've lived in in the past 5 years:
State Criminal History Check
State Sex Offender Registry
State Child Abuse and Neglect Registry
You can use the following link to find instructions for completing each of these forms.
You must have ALL of these forms sent into their respective organizations by Friday, March 4th. Once you obtain results of these background checks, immediately send the results to sophie@tellurideacademy.org
All Staff must pass a National Background Check. To complete the Check, please utilize the Colorado Fingerprinting or IdentiGo fingerprinting process. See directions below:

Best for those living in the state of Colorado.
Instructions:
Click this link, scroll to the bottom and choose "Applicants Click Here to Begin." Create an account and follow the detailed instructions.
Note: In Step 3, you will order the "CBI CABS Fingerprinting."
​
CBI Unique ID: 1100DCLI
OTHER IMPORTANT INFORMATION
Employer:
Telluride Academy
P.O. Box 2255
Telluride, CO 81435
Reason Fingerprinted:
Childcare Licensed 26-6-107
Agency Code:
CONCJ1100
Childcare License Number:
1559492
You must submit your fingerprinting by April 15th. No exceptions.
3. COMPLETE STANDARD PRECAUTIONS TRAINING
All child care workers in the state of Colorado are required to complete a Standard Precautions Training every year. This free online training will take about an hour and a half.
Directions:
To access the Standard Precautions training, create a PDIS Account by clicking this link and selecting "Create Account."
After you've created account, go to the menu bar in the top right corner, click "Learning" from the dropdown menu, and then "Learning Search."
Click "Search Training" in the pop-up box.
In the search bar, type "Standard Precautions."
Select the first option, titled ""Standard Precautions including Prevention and Control of Infectious Diseases and Immunizations."
Follow the instructions to complete this course and upload your completion certificate to your Bamboo profile.
It may ask for the following information:
Employer Type: School Age Program
Country: San Miguel
School Age Program: San Miguel School Age (Before & After) & Camp Program
Professional Role Category: School Age Professional
Professional Role: School Age Professional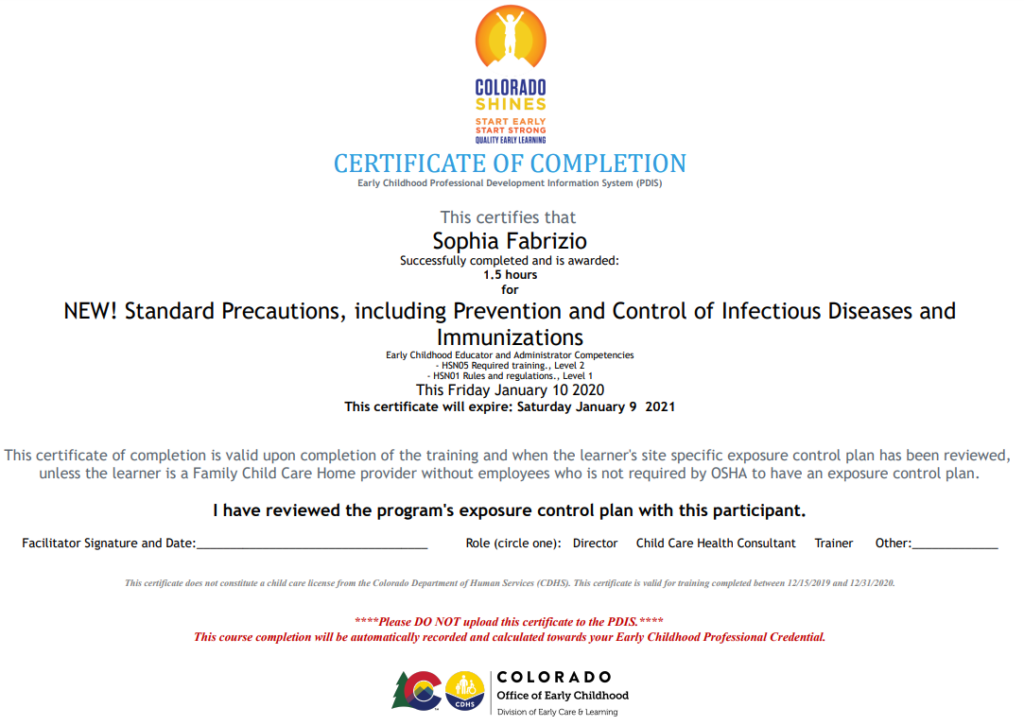 4. COMPLETE ABUSE AWARENESS & PREVENTION TRAINING
Understanding and working to prevent abuse is an integral part of our work as educators. Telluride Academy is implementing a new Abuse Awareness and Prevention Training program to help instructors understand the the warning signs and ways we can mitigate these types of risks. This goal of this training is to help keep Telluride Academy a safe place for our students and staff! This training will take about 90 minutes.
​
After you have taken this training, please read Telluride Academy's Abuse and Neglect Prevention Policies. This document outlines our safety policies as they pertain to abuse prevention, camper and staff expectations, and the steps staff should take if they suspect inappropriate behavior.
Directions:
Click this link to create an account for Telluride Academy's Abuse Prevention portal.
Once signed up, the website will bring you to the portal home page. Click "Awareness Training" on the left, and watch the 9 short videos.
After you've watched the videos, take the online quiz. Telluride Academy will be notified with your results.
You do not need to print or email any certification documents. This will take about an hour.
5. STAFF HANDBOOK & FIELD GUIDE
All staff MUST Read the 2023 Staff Handbook carefully! This document outlines all Academy policies, procedures as well as the expectations of all Field Instructors. The Handbook is also a great place to familiarize yourself with how we structure and staff Academy programs. The staff handbook must be carried with you in the field at all times and gives you access to emergency contact numbers, lightning procedures, evacuations and more!
Both documents MUST be read and reviewed prior to entering the field with students.
We recommend that you either print off a version of this handbook or download them to your smart phone. You MUST carry one of these documents with you at all times this summer!
There are also numerous addendum found on the 'Staff Resources' page that outline useful options that are available to you throughout the summer.
6. CAMPER CODE OF CONDUCT
All staff MUST read the TA Camper Code of Conduct. This document outlines the expectation Telluride Academy holds for it's students. Instructors should be familiar with these expectations and communicate with admin staff if any child is not adhering to it.
We recommend printing this document and keeping it with you during camp. This can be a useful reference when students are not behaving.
This document can serve as a guideline when creating "Camp Contracts" with student groups on Monday mornings.
7. COMPLETE REQUIRED FORMS
Once hired, you will receive an email from our Bamboo HR platform. Please follow the instructions to complete your NEW HIRE PACKET, which will include adding personal information to your account, filling out a few "getting to know you" questions, signing vital documents, uploading certifications and more. This might take a bit of time, so please get an early start!